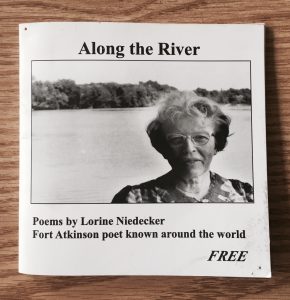 For National Poetry Month (April), serendipity introduced the Wisconsin Water Librarians to a new friend in the late Fort Atkinson poet, Lorine Niedecker (1903-1970). And speaking of friends, serendipity had a helping hand from the dedication of the Friends of Lorine Niedecker and Fort Atkinson's Dwight Foster Public Library, along with the work of a UW scholar, Steele Wagstaff, who researches and writes eloquently on Niedecker's ecopoetics  and her work among the larger family of Objectivist Poets.
That such a stunning artist whose poems sits alongside Emily Dickinson's in the Norton Anthology of Poetry lived in obscurity in a most obscure place—on Blackhawk Island, a small  peninsula which juts into Lake Koshkonong on the Rock River—and wrote with such passionate simplicity about water and place, took us aback this month.
We're so grateful for the introduction – and we invite you to learn why with a few of her poems here.
---
from Paean to Place
And the place
was water
Fish
fowl
flood
Water lily mud
My life
in the leaves and on water
My mother and I
born
in swale and swamp and sworn
to water

Get a load
of April's
fabulous
frog rattle-
lowland freight cars
          in the night

Smile
to see the lake
   lay
the still sky
And
out for an easy
   make
the dragonfly

Something
like a flower
will devour
water
flower


Along the river
wild sunflowers
over my head
the dead
who gave me life
give me this
our relative the air
floods
our rich friend
silt

from Paean to Place
O my floating life
do not save love
for things
Throw things
to the flood
ruined
by the flood
Leave the new unbought
all one in the end-
water
***