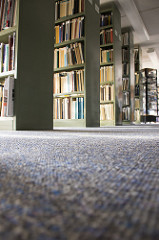 Established in 1964 by the UW Water Resources Institute, the Wisconsin Water Library (formerly known as the Water Resources Library) is unique among UW-Madison's many libraries for its collection of 30,000 volumes about the waters of Wisconsin and the Great Lakes.
The library's mission is to collect, preserve and provide science-based resources in support of the UW Aquatic Sciences Center and the two programs it administers, the Water Resources Institute and the Sea Grant Institute by:
Participating in outreach to Wisconsin residents of all ages to heighten awareness of the Great Lakes and Wisconsin's water resources;
Supporting the educational and research activities of the Aquatic Sciences Center;
Preserving the library collection for future as well as historical value.
The library is open to all of the UW System and the collection may be searched online via the library catalog. In addition, the library is open to all adult residents of Wisconsin – they are welcome to check out books for free. To find out how, visit our Request, Borrow, Renew page.
The library is located on the west end of the UW-Madison campus, in Goodnight Hall.
Books, documents, reports, microfiche, most newsletters and the current issues of journals are in room 238. Back issues of journals are in our annex, room 232A. The librarian is in room 247.