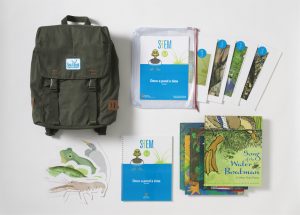 The pond appears repeatedly as a natural setting throughout classic and contemporary children's literature, which is a boon for water librarians enthusiastic over teaching about this impossibly diverse and magical watery ecosystem. The Once a Pond a Time STEM kit includes a comprehensive, step-by-step storytime guide and a list of reading resources, along with five read-aloud books. Our selection of picture book fiction and poetry introduces children to the wide range of aquatic plant, insect, and animal life animating the pond, rendering what might appear as the calmest and sleepiest of our waterways teaming with natural adventure.
Along with a craft idea and photos that differentiate the pond from other bodies of water, a highlight of this kit is the What's in a Pond? Game which includes a large, blue tablecloth rendering of a pond with gorgeous cutout illustrations of pond inhabitants created by designer Kristen Rost.
View a downloadable copy of the storytime guide.
You can also download the bodies of water used in the guide.
All materials in the STEM Kit were updated August 2018.