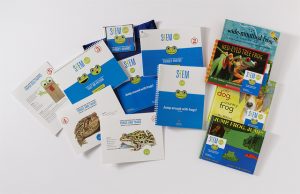 This STEM kit introduces children to our favorite stout and friendly amphibians! Jump Around with Frogs!  includes a comprehensive, step-by-step storytime guide and list of reading resources, along with four read-aloud books. Our selection of picture book fiction and nonfiction simultaneously invites children to understand froggy ecosystems and place frogs in lyrical and lively fictional contexts, helping young  scientists envision frog habitat, behavior, and adaptation all while building language skills.
Also included in the kit is a set of learning resources to differentiate frogs from toads (our other amphibian pals!), including:
An audio CD of frog and toad sounds

A series of of frog and toad photographs of native species found in Wisconsin

Quizzes and guides about differentiating frogs from toads

A craft idea with instructions
View a downloadable copy of the the storytime guide.

All materials in the STEM Kit were updated August 2018.