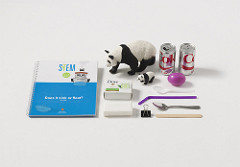 The water property of buoyancy takes center stage in this interactive STEM storytime, allowing boats to float (or sink) along as main characters. Does It Sink or Float? includes a step-by-step storytime guide and list of reading resources, along with four read-aloud books. Our selection of picture book fiction introduces children to different types of boats, as well as the culture of boats: as vessels of adventure, imagination, and silly shenanigans.
A major strength of Does it sink or float? is the inclusion of an experiment on buoyancy that invites the children to directly engage with the concept of the scientific method. The kit includes a series of objects for young scientists to "test" their "hypothesis" of whether an object will sink or float, and then "observe" and "record" the results on a graphic record log. Warning: this kit can produce almost as much watery mess as it does fun!
View a downloadable copy of the storytime guide.
You can also download our log sheets for recording your results.
All materials in the STEM Kit were updated August 2018.